ANNA O'HARA (1940 - 2013)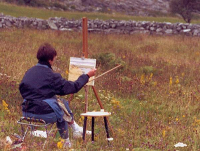 Intrigued by the effects of light and shade on the infinite colour variations in nature, Anna was always inspired by a wide range of subjects. Influenced by the French Impressionists, studied at art college and at exhibitions ever since - Cezanne for structure, Bonnard for colour and Pissarro for brushwork - her own style and technique was based upon 'plein air' painting, sketching and observation. As she said "I love painting and sketching directly from life – when I am outside and face to face with my subject, there is a directness, an involvement and an understanding that lifts my enthusiasm for the work in hand." Whether she was in her favourite softly lit parts of Ireland - West or East Cork, Kerry or Galway - or in the brighter light of southern France, Morocco or California, trees were a favourite subject for more than 35 years. Living in Cork harbour, surrounded by mixed woodland, had provided endless inspiration, and her later series of paintings take the viewer on exciting and mysterious journeys between the majestic towering trunks of pine and beech,fir, oak and rowan. This secret world spreads far beyond the boundaries of the canvas and leads one into a forest of the imagination, with the rich warm ground beneath one's feet, and bold strong treetrunks soaring and twisting through a silver filigree of branches towards the infinity of space above one's head. These paintings also remind us how woodland helps to maintain an essential balance in our atmosphere, a foundation of sustainability adding purpose to aesthetic value. Anna and Patrick's shared love of the outdoors guided their exploration of Ireland, Europe and many other parts of the world.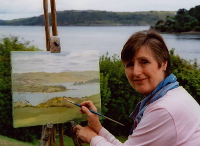 Anna had shown artistic talent early in her teens, so it was natural that she should go to art college, where she obtained a National Diploma in Art & Design, and went on to get her Art Teacher's Diploma. She specialised in oil painting and taught art for several years in Norwich. She had her first one-person exhibition at the Assembly House there in 1966, featuring landscapes of local bluebell woods, the wide expanses of Thetford Chase, poppies in the cornfields and youngsters on the beach – subjects which continued to fascinate her throughout her life. Light and colour were her driving obsessions all along, and some sixteen exhibitions later - in London, Dublin and Cork, more than seven hundred of her paintings are now in private and corporate art collections in Ireland, U.S.A., Britain, Germany, Switzerland, Canada and Japan. Her paintings were selected for Royal Hibernian Academy exhibitions and for many group shows. Some of Anna's later paintings – featuring Cork's famous Shandon Tower, Gougane Barra : source of the River Lee, University College Cork, and the picturesque yachting and fishing village of Crosshaven – are now available as high quality limited edition prints. During the year before she died, Anna produced some amazing, exciting and joyful works in watercolour and gouache - body colour - featuring exotic birds, butterflies and flowers, with the intention that these should also be printed as limited editions. This intention was carried through at a selling exhibition during November, 2014, at Manor House, Currabinny, near Carrigaline, Co.Cork, Ireland. Half of the proceeds from this exhibition, 23,000 euros, were donated equally to two charities: The Irish Cancer Society and The Nathan Kirwan Trust.