This really is a "home page" - since 1976, Patrick and Anna O'Hara lived and worked in studios in their old home, Manor House, in the tiny village of Currabinny, nestling between forest and seashore in Cork Harbour, in the mild climate of South-West Ireland. Sadly, Anna died in December 2013, at the age of 72, but produced some of her most vibrant work in the last few months of her life.

Situated amid a great variety of scenery from coastal cliffs and beaches to tidal estuary, marshes, rolling farmland and ancient woodlands, these surroundings have inspired both Patrick and Anna throughout their careers.

Anna and Patrick had met and married in Norfolk in England in 1965, and both were professional artists for more than forty years, each producing more than seven hundred artworks in that time, most of which are now in collections around the world.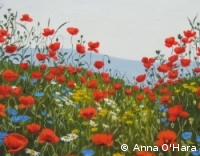 Anna: (in an interview in 1995): "The Impressionist movement of the 19th century has been my main influence. I admire Cezanne for his structure and Bonnard for his wonderful use of colour. Like them, I prefer to paint directly from life, whether it is children on the beach, picnics in the park or the infinite variety of the landscape itself. I like to paint with loose brushstrokes of colour to suggest the fluidity of light falling on the leaves.
So, in this way, it has been Alfred Sisley's studies of rivers and reflections, Camille Pissarro's paintings of the French countryside, and Claude Monet's interpretation of women in a garden that have all inspired me in my paintings."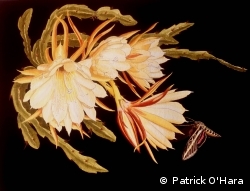 Patrick: "In ceramics I greatly admired the wonderful craftsmanship of mould-cast models made at Meissen, Worcester and Minton, but wanted to emulate individual artistry of the late 19th century, such as Marc Louis Solon's pâte-sur-pâte decoration, the Deishiyaki family's delicate hand modelling and the unique glass flowers and sea creatures of Leopold and Rudolph Blaschka.
I have learnt so much from the watercolours of wonderful botanical artists like Ferdinand Bauer and Georg Ehret - but have particularly studied the styles of Leonardo da Vinci in his Wood Anemones and Star of Bethlehem; Albrecht Durer's 'Great Piece of Turf'; Mark Catesby's flowers of the West Indies - with his frogs and snakes, and especially Maria Sibylla Merian's free and lively paintings in 'Insects of Surinam', with her plants alive with bugs and caterpillars. I think I owe most to her and to bird artist John James Audubon for inspiration in the composition of my watercolours and of my sculptures."