PATRICK O'HARA
Patrick has established a worldwide reputation for his own particular style of botanical works of art over four decades – firstly making unique, life-size, porcelain sculptures, and then more recently for his paintings in watercolour. He is concerned to portray wild flowers as they actually live, surrounded by the fauna and flora upon which they depend. Much traditional botanical painting has tended to depict plant specimens with great fidelity but isolated from nature. Patrick's work is based on his observation of the growing plants with their associated insects and small animals, so helping to understand the relationships that are what ecology is all about.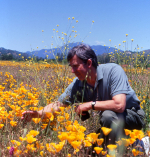 He is currently involved in several projects in different parts of the world, but principally with a long-term commission to portray the wildflowers of California. Santa Barbara Botanic Garden, which specialises in the conservation and development of the native flora of California, is acquiring a collection of original watercolours based on his observations in diverse wilderness habitats during his expeditions around the state over the past ten years. Limited edition (250) prints of these watercolors are now available from Santa Barbara Botanic Garden (www.sbbg.org), each one personally checked, numbered and signed by the artist, and so superbly executed by the London Print Studio that they have drawn comparison with the prints made for J.J. Audubon's Birds of America. Patrick's abiding concern is that his work should be used to champion the conservation of plants in their own natural habitats. Although vegetation is the basis of the visible natural food chain, it does not carry quite the same appeal as the panda, the tiger or the osprey. Yet, not only do these creatures depend upon a specific range of plants in their niche habitats, but we ourselves are discovering new-to-science chemicals in even the most common weeds, yielding potential cures and treatments for some of the world's most persistent ailments. For this work in promoting plant conservation around the world, he had the honour of being invited to stage a major exibition at the United Nations in 1984, and of being elected a Fellow of the Linnean Society in 1992.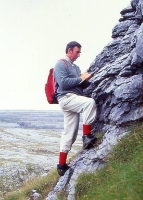 Patrick's early interests were focussed on natural history and on insects in particular. He naturally specialised in biology, and went on to study botany, zoology and geology at Reading University. After some years working in the animal feed industry, visiting poultry farms in Norfolk and then Gloucestershire, he accompanied Anna to evening classes at Malvern Art School. There, his latent artistic talent blossomed and he was inspired by two enthusiastic lecturers and quickly developed a passion for ceramics, and he honed his techniques by making a series of precise models of steam traction engines and veteran cars. With Anna's encouragement, he soon started working full time making porcelain sculptures of the wild flowers and butterflies that he really loved, from his own observations and drawings. After a series of displays in prestigious London stores, including Harrods and Selfridges, his first one-person show was shown by Cartier in New York's Fifth Avenue and in Beverly Hills in 1972/3, and since then there have been thirty major exhibitions of his work in Europe, Asia and America - and more than six hundred of his sculptures and paintings are now in museums, galleries and private art collections around the world. In 2008, an exhibition of Patrick's watercolors of California wildflowers was staged at the Santa Barbara Botanic Garden, and an exhibition of his botanical sculptures in porcelain was held in the American Museum of Ceramic Art (AMOCA) in Pomona, California, which also has a number of his most significant sculptures in their collection. With his wife, Anna, he attended these exhibitions and then spent a further period studying California wildflowers in a variety of habitats. In 2011, Patrick's collection of thirty watercolours of Californian wildflowers and butterflies was exhibited in the Boole Library, University College Cork. In 2013, the original watercolours, and some of his sculptures of Californian species, were exhibited as part of the grand re-opening of the Wildling Art Museum in Solvang, CA.